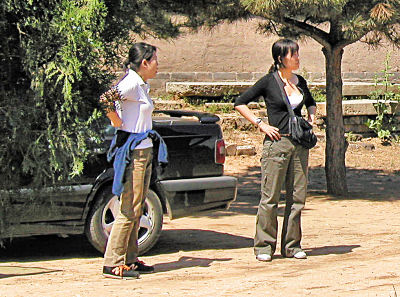 Liu Jian Ling and Yang Jing in front of Siling
Credit where credit is due
Authoring these pages might have been a one-man effort, but it would have been for naught had it not been for the tireless support from a few other persons.
Yang Jing assisted me without complaints through sun, rain and bitter frost on excursions to Shisanling, Tianyi's tomb and so on. She would ensure that the logistics functioned perfectly without which I would not have gotten far.
Liu Jian Ling helped me tremendously gain access to many locations, which were off limits. Together with Yang Jing she would skillfully convince officials to let me take photos and also tease out excellent intelligence of less visited and known places of interest.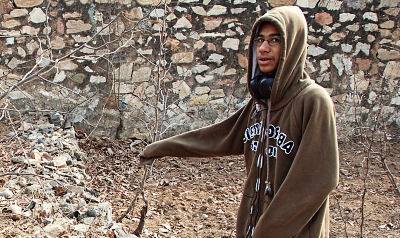 Ryan at one of the consort mausoleums
My son Ryan was helpful in searching and finding some of the consort mausoleums, that were unmarked on any map.
So what drove all of this? A deep personal interest in visiting the last earthly remains of the key people, who for better or worse shaped the last true Chinese imperial dynasty.
Literature
A great many books and reference material underpin the information on the web pages.
There is only one true source for anyone interested in the complete details of each of the Shisanling Emperor mausoleums: Ms. Ann Paludan's book from 1928, "The Imperial Ming Tombs".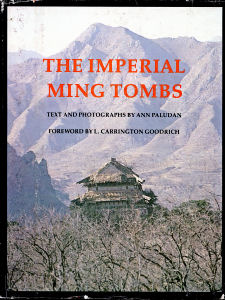 Ann Paludan's 1928
book on Shisanling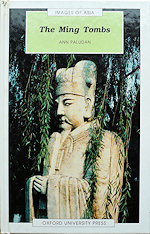 Abridged version
from 1991
Her book offers a thorough review of each and every tomb, down to exact drawings and measurements. The book is out of print but can be had on the second hand market.
If you are interested in an abridged version then she has also published a smaller 69 page version of the main book.
Ms. Ann Paludan is no stranger to people interested in Chinese history. She also authored the 1998 incredibly. well-written book "Chronicle of the Chinese Emperors", reprinted 1999, and still a best-seller in tourist shops all over Beijing.
This latter book is probably the single most best book, which in rich illustrations and informative sidebars takes its reader through 2,200 years of Chinese history in an easy-to-read and comprehensible way. If you only want to buy one book on China's history, then buy this one.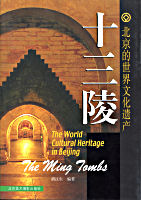 World Heritage booklet
Even though Ann Paludan's book is beyond doubt the best source, I have however relied more upon other, more simple prints.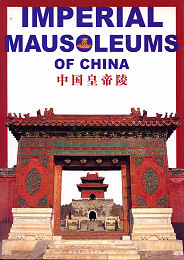 Imperial Mausoleums
of China
A good example is the 2004 booklet, "The World Cultural Heritage in Beijing -The Ming Tombs". Despite its small size and just 135 pages it still contains a wealth of information on Shisanling, the surrounding topography and the individual mausoleums.
This booklet supplied much of the detailed information on individual tombs and their ridges.
The 2006 book, "Imperial Mausoleums of China", also gave lots of inspiration.
However, this book covers all imperial mausoleums and not only the Ming tombs. It is therefore less rich on Ming tomb details, but is still worth the money because it spans many associated subjects. The photography is super and for an all-round book on all Chinese imperial tombs, this one is it.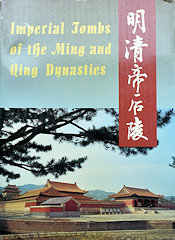 Imperial Tombs of the
Ming and Qing Dynasties
Zooming in only on the Ming and Qing mausoleums the book "Imperial Tombs of the Ming and Qing Dynasties" (China Esperanto Press, 1996) offers a host of great photography in addition to some introductory comments to the individual dynasties.
Most of the information and image legends of this publication can however easily be found in numerous other books. If so inclined, then acquire this book for the photography alone.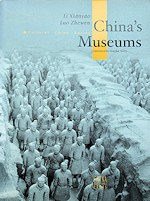 Chinas Museums
Since the Ming tombs, Shisanling, is considered one of the world's cultural heritages, then it is also classified as a museum.
This classification earns Shisanling a place in the comprehensive book of all China's Museums of the same name and published 2004 as translated by Martha Avery.
It is a well written publication, very informative and covers associated subjects in a successful attempt to trace China's civilization through its museums. Paper quality and imaging are both of high quality.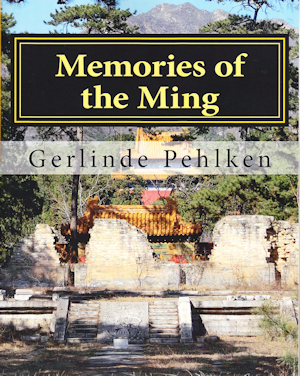 Memories of the Ming
A more recent publication "Memories of the Ming" (2016 -privately printed) by Gerlinde Pehlken covers all the imperial Shisanling tombs, the concubine cemeteries in the area, Jingtailing in the western mountains of Beijing and Xiaoling in Nanjing, the tomb of the first Ming emperor.
She is fortunate enough to have lived in Beijing in the mid- to late 1990s when it was still possible to actually enter all the tombs and secure photography. Nowadays, only three of the thirteen imperial tombs are open to the public and official requests to enter and ensure professional photography at the other ten tombs are unfortunately declined.
The book is rich on details of each tomb. Most offer a walk-through of the unique features of each tomb spiced up with images from late 20th Century and, occasionally, material such as postcards and photography dating far further back in time.
The publication also touches on rituals associated with imperial tombs and offers many relevant folklore stories and historical tidbits, which add a good flavor and augment the value for those who merely see "a tomb" as a place where someone is interred.
She revisited Shisanling in 2016 and by including photos from that year the reader gets a time lapse impression of how much parts of this area have developed in such a relatively short span of time.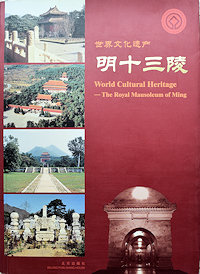 Royal Mausoleum of Ming
These web pages were originally created many years before the publication of this book, but in later web revisions some of her information has been included with due source reference. In any case, I recommended this publication for those who wish to indulge themselves into a wealth of informative, inspiring and interesting details of each of the Ming tombs.
If you are primarily interested in excellent imaging of the various Ming tombs north of Beijing, then another two books come to mind.
The first is "World Cultural Heritage - The Royal Mausoleum of Ming", Beijing Publishing House, 2003.
This book first has a brief preface detailing the road that Shisanling took until it was finally in 2003 listed in the famous and prestigious World Cultural Heritage Catalogue.
The preface is followed by a 141 page high quality photo journey through all the Ming tombs in Shisanling, not forgetting Siling and even the neighboring tomb of eunuch Wang Cheng.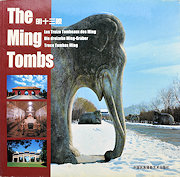 The Ming Tombs
Similar good photography can be found in "The Ming Tombs", a 95 page publication from 2002.
A brief preface is followed by imaging of each of the Shisanling tombs along with a brief story about the tomb occupant.
This book aims at the tourist segment carrying all text and legend in Chinese, English, French and German. The typical book sold in stalls and shops at Shisanling or at other main cultural and historical sights of Beijing.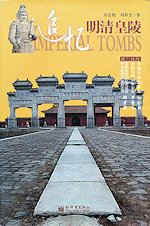 Imperial Tombs
While on languages then obviously if you are so fortunate as to read Chinese then there is an incredible wealth of publications covering just about any conceivable angle and corner of Shisanling.
A small, but good book covering most of the more well-known Chinese mausolea is "Imperial Tombs" (New World Press, 2004).
It is all in Chinese but excels in offering a concise entry into each mausoleum and in including many graphical illustrations, something missing in most of the above publications.
Paper and photo quality could have been better, though.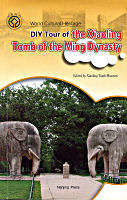 Xiaoling Tomb of
the Ming Dynasty
Diving down to a single tomb, the 2005 print of, "DIY Tour of the Xiaoling Tomb of the Ming Dynasty", gives a great tale of all the magnificent structures of this, the very first Ming dynasty tomb.
But there is more! This tiny booklet even includes a section on the "Tombs of the Meritorious Ministers [Attached to the Xiaoling Tomb of the Ming Dynasty]". Here you can find a summary description of tombs like that of general Xu Da or nephew Li Wenzhong.
Architecture
Chinese Architecture
Slightly off the focus here but for many people quite interesting and fascinating is the architecture practised by the Ming.
The Ming introduced a different mausoleum layout compared to its Han Chinese predecessors. The chapter on layout on these pages gives a general description of the overall layout and main variations.
Throughout the life of the Ming dynasty the mausolea gradually became more uniform with fewer and fewer unique features.
They still varied significantly in size, grandeur and material, but the overall layout did not change much.
The high quality publication "Chinese Architecture", (Yale University and New World Press, 2002, 366pp), traverses the architecture all the Chinese dynasties with individual sections on the Ming tombs, The Forbidden City, Temple of Heaven, etc.
The book covers both structural designs as well as general layouts over the millenniums and is richly documented with images and illustrations.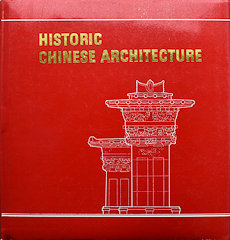 Historic Chinese
Architecture
Generally more focused on the building structures, the book "Historic Chinese Architecture", first published in 1985 by Tsinghua University Press, has a good 14 page description of the various characteristics of Chinese building details in addition to imaging of different structures to illustrate the building styles.
As opposed to the western standard building structure with a foundation, four walls and a simple roof, the Ming perceived a building differently.
Their aim was to place on a foundation a number of columns, the primary purpose of which was to support a complex roof structure resting on depth wise directional beams. The outer circumference of columns were then connected by different type of panels to enclose the space inside.
The roof itself consisted of a large number of interconnected rafters and purlins, far too complex to cover here.
In addition to other benefits, this column based approach resulted in far more earthquake resistant buildings in an earthquake prone region of the world.
The area between two columns were called a "bay" or "room" and was the basic building unit in old China. A building size would typically be described in terms of its number of bays rather than in square meters.
Already in the Ming dynasty (1368-1644) the roof structures were considerably simplified compared to earlier dynasties.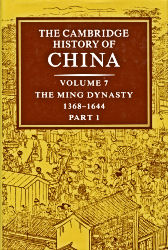 Cambridge History of China
Ming History
When it comes to a comprehensive description of the Ming dynasty, hardly anything beats "The Cambridge History of China, volumes 7 and 8". Published by the Cambridge University Press in 1988, it has since been reprinted in 1990, 1997 and 2004.
Volume 7 concentrates on an account of the rise of Ming and each of the individual seventeen Ming reign periods.
Volume 8, on the other hand, focuses on religion, commerce, administration, economy and foreign relation during the Ming dynasty (1368 - 1644).
You will need some time to trawl through these books. Volume 7 contains 976 pages and volume 8 even a whooping 1,203 pages. But having completed these two volumes, you will indeed also possess a tremendous amount of sound knowledge of the Ming Dynasty and its times.
There are many other excellent narrations of the Ming dynasty, for instance Edward Dryer's, "Early Ming China" from 1982, but all of those mentioned above have at the end of the day been those, which provided me with most of the information to produce the text of these pages.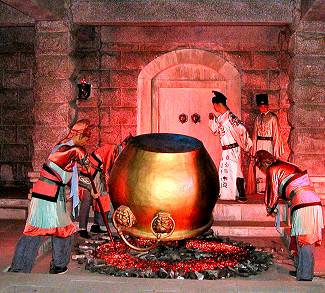 Ming Xuande Emperor
roasts a rebel leader to death
Again, a resounding thank you to Yang Jing, Liu Jian Ling and Ryan.
Wax
The pictures at the top of the emperor mausoleum pages all stem from the Shisanling Wax Museum.
The museum displayed life-sized depiction of some defining moments of the Ming dynasty. Each emperor has his own scene showing a critical event of his reign.
The displays were of good quality and the accompanying explanation of each scene was posted in both English and Chinese.
The museum is conveniently located on the local road linking the Ming tombs to the highway to/from Beijing. Unfortunately, the museum closed its doors "for renovation" in 2017 and it is unceratin when or if it will open again.